Is Capital.com a scam broker or legit?
CFDs are complex instruments and come with a high risk of losing money rapidly due to leverage. 76.72 % of retail investor accounts lose money when trading CFDs with this provider. You should consider whether you understand how CFDs work and whether you can afford to take the high risk of losing your money.
There are numerous online brokers on the market claiming to be 100% legit and to offer the best trading services. However, as you probably have noticed, some of them are not as legitimate as they appear to be. Sadly, scams have become far more common and in many cases, they resemble reliable websites. Traders can often lose funds and even have their personal information stolen due to malicious websites. One broker that has been garnering plenty of attention is Capital.com, and we investigate whether Capital.com is a scam broker or if it is legit.
Is Capital.com a scam broker?
What most people don't realise is that it is often relatively easy to weed out the scam brokers from your list. This is once you find out which factors to look out for. It is common to ask questions such as "Is capital.com legit" and "Is Capital.com reliable to use". Usually, it only takes basic research and some common sense to figure out the answers. And this is what we will do, we will conduct our own research to figure out whether Capital.com is legit or if it is a scam.
When was Capital.com launched?
Capital.com is relatively new to the online trading market, having launched its services in 2017. Since launching in 2017, we see that Capital has been expanding fairly fast, adding new features and services to its platform, while at the same time seeming to focus on customer service. With any broker, there must be caution especially one that is new so we decided to investigate further to see the various achievements of Capital.com during this time.

Is Capital.com trustworthy?
Capital.com was recently awarded Best Online Trading Platform 2020, Most Transparent Brokerage Service Provider Europe, and Most Innovative Broker 2020.
It is definitely not the only award-winning trading platform out there, and even scam brokers can sometimes win an award or two. But, winning numerous awards is certainly one clear sign of reliability. In our opinion so far, we can conclude that Capital has been rapidly expanding and has already been recognised in the industry which is a good sign that they are trustworthy.
Is Capital.com regulated?
One of the most important things to consider when you're looking for an online trader is whether they have appropriate regulations. There are a variety of regulatory bodies that exist for online brokers and some carry more prestige than others. These bodies help to keep brokers compliant and ensure that they carry out their duties to customers.
Regulated brokers are closely supervised by the financial regulatory bodies of their respective countries and therefore are required to be compliant with established guidelines.
From conducting some research, we find that Capital.com is a regulated CFD broker. Capital.com has group entities that are located in the United Kingdom, Cyprus and Australia where they are authorised and regulated respectively by the Financial Conduct Authority, the Cyprus Securities & Exchange Commission and the Australian Securities and Investments Commission.
Unlike other online brokers, Capital.com has never raised any legitimacy concerns with regulators and since its launch in 2017 has built a reputation of being a fair player. These are all positive signs that indicate Capital.com is likely to be a legitimate and reliable broker.

Is Capital.com reliable?
Whilst reference to the security of your money won't prevent you from potentially losing your money in trading, having regulations that protects your client money is a positive sign. But it is not the only way to gauge security. A broker should also have strong protocols to protect the funds of clients and to also ensure their personal details are kept confidential. We found that client funds are protected in the UK by the Financial Services Compensation Scheme (FSCS) of up to £85,000. In the EU, funds of up to 20,000 Euros. are protected through the Investor Compensation Fund (ICF). All deposits are kept separately from the company by reputable banks. This is a clear sign that the broker is not a scam since they do not even have access to the funds in the first place.
The website itself is protected by SSL encryption which provides another small indication that they are reliable. Accounts are audited by Deloitte and key information documents are publicly visible on the website. This is a fantastic sign of transparency in the company and it shows that they have nothing to hide.
Is the Capital.com trading platform reliable?
But, we must investigate further and look into the trading platform itself. Many online platforms claim to deliver a seamless trading experience. But what does this actually mean for its clients and why is it important?
An easy-to-use app with a fast load time is extremely important for online traders. It provides a strong foundation for trading and magnifies customer experience by preventing glitches. Brokerage glitches can lead to significant losses and, as you can imagine this can cause heart palpitations to traders. When comparing Capital.com to other apps, it has a fast loading time of an average of 2.5 seconds, which is a fairly good score.
Capital.com has developed an AI-powered app that uses eQ detection to help you understand trading psychology. The platform has a holistic take on investment strategy which encourages traders to develop personalised trading insights. This is an added bonus that is not commonly found in other brokers, even legitimate ones. It doesn't prove that Capital is legitimate, but it does show a genuine desire for traders to be well educated with their trading.
Capital.com fees and spreads
Even when a broker has all of the signs of legitimacy, they may still be ripping off traders with large fees and spreads. Even with regulations, there is the possibility of overcharging customers. With Capital.com, we found that the fees system was transparent.
The spreads are competitive and there are no hidden fees that we saw. This low-cost trading environment is another positive since it provides a fair trading experience. We also found swap rates to be competitive, and we were surprised to see that there were no fees for deposits or withdrawals which is unusual in this industry. The competitiveness can be seen in the comparison of Capital's fees and spreads vs other brokers.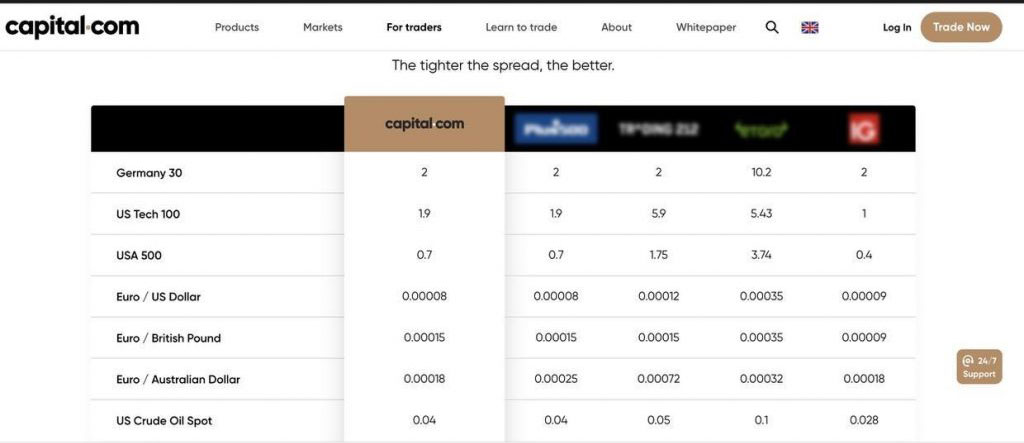 Capital.com marketing & transparency
For someone who knows little about trading, this could be empowering. It helps you understand how trading really works. Unlike social trading platforms, with Capital.com you don't rely on the strategy of others to make a decision. Instead, you are encouraged to understand the fundamentals and build your own investment strategy. This is a good sign that the broker is not a scam, since unreliable brokers will often pressure traders to invest more money and take risky trades. From our experience, we found that the opposite was true with Capital.com and they strongly encourage traders to understand risks and to understand markets before investing.
We also found a demo platform that allowed users to practice. In terms of marketing and transparency, Capital.com goes about their business in a fair and professional manner. Marketing materials and promotional offers always state risks and they are concise with the information they provide which allows a trader to make a reasoned decision.
Does Capital.com provide educational resources?
Capital.com has a down-to-earth approach to investment strategy. It is supported by an extensive Learn to Trade section that offers free trading education with separate sections for CFDs on commodities, shares, indices, and ETFs. An investment in educational material does not prove that a broker is not a scam, but it does underline the broker's commitment to the safeguarding of the trader. We were pleased to find that Capital.com even has its own educational app known as Investmate. Within this app someone new to finance can easily get to grips with various concepts. A user can find videos, tools, and a jargon-busting glossary. There are 6 goals and 6 personalised paths to take within the app, and this level of dedication to trader education is rarely found elsewhere. Most brokers claim that they want to help traders, but with Capital we can actually see a concerted effort to ensure their users can have easy access to financial education.
We like this approach, as it stands against the "smoke and mirrors" approach that other platforms use to lure customers. There is plenty of transparency throughout the sign-up process and when trades are conducted. This is another positive sign that Capital is a legitimate trading broker.
Capital.com customer service rating
The efficiency and promptness of customer service is extremely important for online traders. Generally speaking, many negative reviews of trading platforms come-understandably- from angry customers who think they will never see their money again. Sometimes it can be the fault of the customer, but too many negative reviews often points to something seriously wrong with the platform or broker and can be a warning sign that the broker is a scam.
It appears that Capital.com has invested heavily in communication and customer support. They claim that it takes seconds to reply to customer enquiries. This is a big claim, but it is something that is stated in various customer services.
Its extensive support is available 24/7 via phone, email, live chat, Facebook, Telegram,WhatsApp and Viber. If a trader has a problem, there appears to be a reliable customer service system in place that can help to resolve these issues.
Support agents deal promptly with enquiries in 8 different languages including English, French, German, Italian, Arabic, Russian, Spanish and Turkish. Again, many brokers only support one or two languages, and this is another indication that the broker truly prides themselves on delivering fantastic customer support. There is also a detailed FAQ page on the website that has helpful answers to the most common questions.
Does Capital.com have partnerships?
Another way to gauge the legitimacy of a broker is to see whether they have any partnerships with trusted platforms. After some research we found that Capital.com has partnerships with Tradingview and Investing.com, both of which are amongst the world's top financial websites. The fact that Capital.com has partnerships with both of them is a key sign of legitimacy.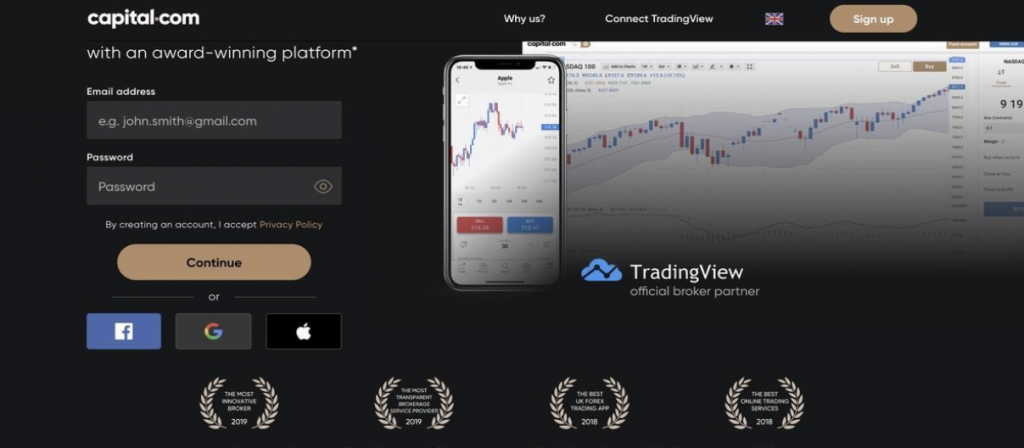 Capital.com online reviews
Online reviews on trusted platforms are a good place to start when you are looking for a legitimate online broker. You can rest assured that if a platform is a scam, it is not likely to survive the seething rage of frustrated customers on TrustPilot or GooglePlay. However, in some cases, brokers may artificially inflate their scores with fake reviews.
Capital.comhas received positive feedback from customers and has tried to address each customer complaint individually. Some recurring remarks made by customers describe Capital.com as an "easy" and "simple" platform with a user-friendly interface.
TrustPilot: 4.1/5
GooglePlay: 4.3/5
Apple Store: 4.7/5
Let's look at some examples of customer feedback.
Trust Pilot User:
"A very helpful platform with a clear points of impressions when using it even with the mobile applications.Easy to understand and to decide the next steps."
"Very nice educational platform to learn…"
Google Play Users:
"Superb app. The self service withdrawals to bank cards are limited on accounts below 50euro even if Capital says otherwise. But with a phone call I got the help I needed to withdraw anyway."
"Only had a couple of weeks. I'm a novice but researched beforehand. I have started small just to get a feel and so far so good. The app is brilliant. The format, the information, the diagrams, the p&l, the costs are all brilliantly shown at ease. Buying and selling is easy and sign up and deposit was not a problem. I have tried another app but didn't show a quarter of the information or choice of stocks etc to purchase. This will be a long term investment for me and so far impressed .👌"
Apple Store Users:
Easy to use and sign in.
"I have been using this app for over a year and I have found it works well. I don't have any sign in issues and I find it works harmoniously with the desktop version."
"It is very easy to check my positions when on the move. Obviously not as much functionally as the desktop app but that is to be expected and is still useful."

Negative Reviews: Capital.com withdrawals
No platform can ever have 100% positive reviews. Let's not forget that when it comes to money withdrawals or refunds, people often tend to panic. As a result they submit negative reviews before they contact a customer service agent first to make an inquiry.
Negative reviews are constructive, they help a company learn and improve their services.
But should you let them affect your opinion about a company?
Let's have a look.
Google Play user:
"Can't get money out. Every time declined withdraw without telling reason customer support just saying they approve in 24h. After 24h decline and I need request other withdrawal but then again after 24h declined. And like this too many time".
Capital.com replied to this customer, explaining that his withdrawal request was already approved, but it may take up to 7 business days for the funds to reach his bank account/card.
This is in line with company policy which states that it takes 24 hours to process withdrawals and around 5-7 business days for funds to reach your bank account or card.
From what we can see by scrolling down Capital.com's numerous reviews, the customer service agents have replied to every single withdrawal complaint and offered assistance, quoting the company policy. Scam brokers tend to ignore online reviews and even try to get them taken down. The way that Capital responds to each client in a calm and professional manner indicates that they are indeed a legitimate broker. Overall, the reviews are balanced and do not appear to be a scam, but rather real voices from users making use of the platform. They provide a useful insight into what Capital does well and where they could potentially improve.
A Final Word – Is Capital.com a Scam?
If you are looking for a legitimate CFD broker, Capital.com appears to be a reliable option. We have looked at regulators, reviews, customer support, and trading experience to come up with this verdict and as you can see how many of the signs are positive.
Bear in mind that Capital.com is a CFD broker, offering CFD on commodities, shares, indices and forex CFDs.